It's officially one month till Christmas...
…and with Black Friday being in two days, it's the perfect time to start shopping for some Christmas presents! I know exactly how exhausting it can be to find the right thing for everybody. Just the right price range, something they will enjoy and at best something they need. Sometimes it seems like an impossible task. 
Just like a lot of other people I've checked Pinterest for some ideas. After I've seen Beef Jerky and photo calendars about 100 times however, I figured it was time to come up with my own little list. So here it is, my little gift guide to (hopefully) make everybody in your life (including yourself) happy this Christmas. 
When one of my friends showed me this bottle in summer I was amazed by how simple yet genius it was. air up bottles give you the experience of flavoured water without adding anything to your tap water. It works with scent. With their starter set you get a bottle and two air up pods. Theses slightly scented pods are applied to the top of the bottle, so whenever you drink something you will smell whatever flavor you chose. Your nose will basically trick you into thinking that you drink flavored water even thought it is just tap water. This is a genius idea for people like me who simply don't drink enough during the day because they don't like tap water.
Price point: 34,95€ for the starter set 
Ok, I know this might not be for EVERYBODY! But before you start to skip over this idea, hear me out. I got my own polaroid printer about two years ago and can honestly say that it was one of the best gadgets I've ever invested in. I must have printed like 100 pictures or more for my flat, gift tags, presents, my recipe books, my dairy, you get the idea! Yes, you do have to be a polaroid person to like a present like that but let's be honest, who isn't? We can all do with a bit of nostalgia every now and then and printed photos are so much more valuable than the ones we store on our phones. If you can't decide between a polaroid camera and the printer, I'd recommend the printer. It allows you to print any photo from your camera roll and you don't risk getting a blurry photo and wasting a shot. I honestly think, that most people would really like this under their tree. I know my friends would! 😉
Price point: 104,99€ on Amazon
This might sound a bit random but a few years ago whenever I looked up present ideas for my mum a massage was listed amongst them 100%. 10 year old me didn't really get it and definitely couldn't afford it. The older I get however, the more I understand it! Oh what would I give to get a good, relaxing massage. Do I ever "splurge" on it though? Nope, never. That's why it would be the perfect present! It's something you'd really love but rarely pay for it yourself. You could even make it a romantic occasion and go for a couples massage and dinner afterwards. Whatever you do, go and get your loved one the relaxation we all need after the December-party-season!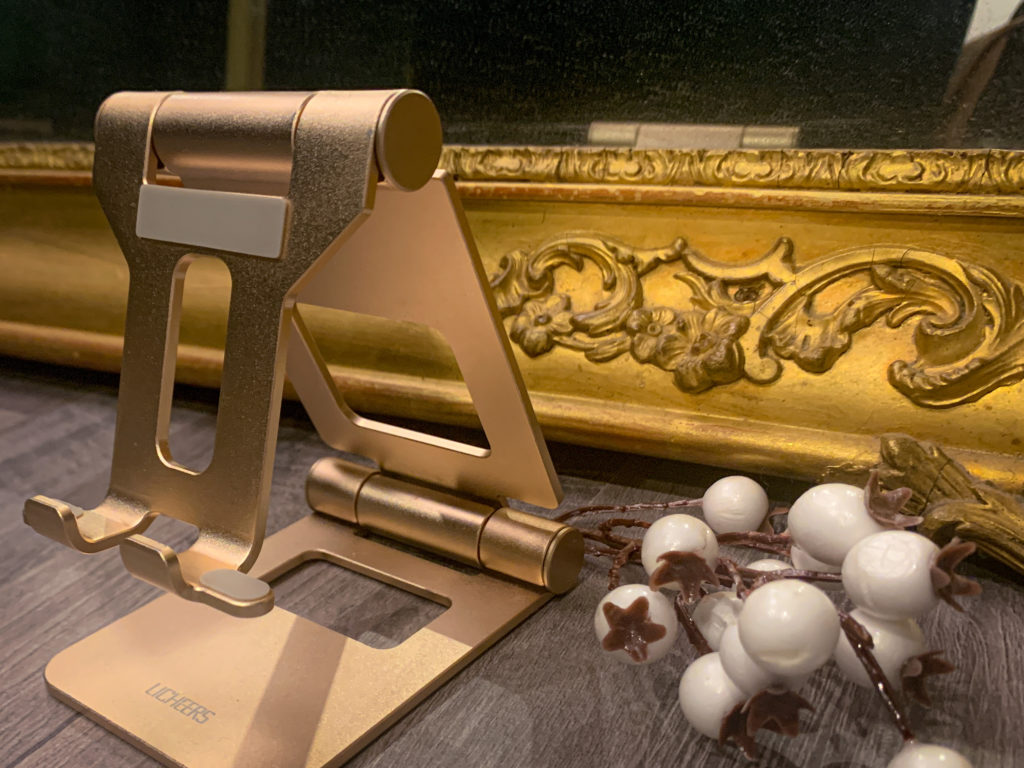 This is a particular good present for parents (at least mine) and people who like to watch series on their phones, work with their tablet, or do a lot of video calls. These phone stands allow you to basically tilt your device in any angle and hold them up when you don't want to. Even though it sounds very basic I can promise you that this will be a present your loved one will use on a daily basis. It's just that practical!
Price point: about 15€ on Amazon
I don't think we have to argue about living conscious anymore. In 2021 (almost 2022, that's wild!) we should have all changed up some of our habits and replaced them with healthier decisions. Healthier for the planet of course. I tried to cut down on fast fashion as good as possible and instead invested in some more expensive, but more sustainable pieces. With the price comes the responsibility to care for my new garments accordingly. One of my life-savers in that regard has been the fabric shaver from Steamery. It helps to remove the little knots that build up on your favourite jumper or coat after a while and makes them look as good as new. I use it on nearly every winter piece in my wardrobe, constantly. It also works with your furniture. If it has knots they can be shaved! This is not just a great present for people who love fashion, but also for everybody who is interested in keeping their wardrobe looking fresh for a longer time. 
Price point: 40€ (32€ for Black Friday if you're fast!) on Steamery
I hope this list might have given you one or two ideas to make your loved ones happy this year. If it hasn't and you think of something even better, leave it in the comments and share your ideas with other people!
Lots of love, Leonie